Broken Pipes and Water Cleanup: Cleaning Your Business After Water Damage
9/14/2018 (Permalink)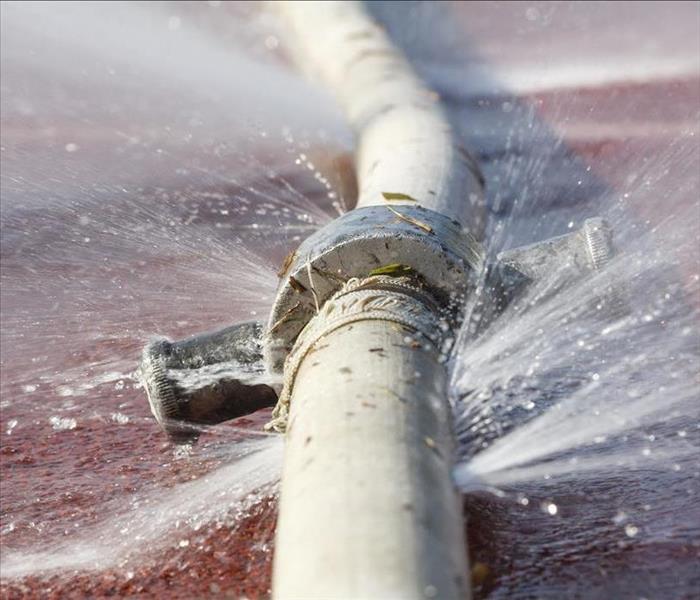 If you experience broken pipes causing flooding in your business be sure to call in the experts to help mitigate the issue.
Broken pipes often lead to extensive water damage, and the water cleanup process can be all-encompassing, especially for a business that has to remain shut until all is restored. Luckily, the cleanup process is pretty straightforward, and, while only suggestions, the steps below can help to make an overwhelming process a manageable one.

Ready the Pumps

You are likely aware of this first step, as it is common knowledge that the longer water stays in a building, the more damage it inflicts; therefore, you should get rid of any excess water as soon as possible. Many home improvement stores will allow you to rent large water pumps and wet vacs, which can help in reducing water levels quickly.

Clear Out the Waste

After removing the water, there will be items and materials that may need to be discarded. For instance, if sewage contaminated the excess water, you will likely want to throw away any porous items. Additionally, it may be necessary to remove drywall up to the level that the water rose, because insulation can lead to mold and mildew growth.

Dry and Dehumidify

Once all of the water and damaged items have been removed, preventing further water damage, you can begin the process of drying the space. You can take another trip to the home improvement store of your choosing and rent air movers, dehumidifiers, and possibly industrial fans. These tools can help speed up the drying process, which can take a couple of days.

Call In the Experts

If you find that this process may be too overwhelming, you can check with Peoria,
Arizona emergency management offices to see about a list of potential restoration specialists that specialize in flood damage.

Water damage, especially from burst pipes, can be stress-inducing. However, when you break the cleanup process into manageable pieces and maybe decide to call somebody in, it becomes a little easier to deal with. This process can help you cope with the temporary loss of business.