Why SERVPRO's Quick Response Time Can Help Your Clients
3/14/2022 (Permalink)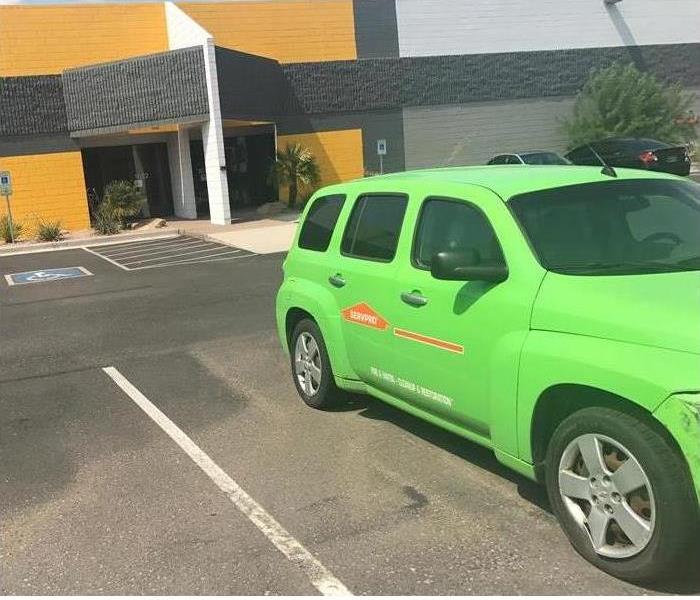 SERVPRO is ready for any Emergency Services in our community at any time. Our teams are trained to assist in any damages such as Fire, Water, or Mold.
Why SERVPRO's Fast Response Time Can Benefit Your Customers
After a water or fire emergency, a fast response is crucial. Water from a leaking pipe or a firefighter hose can start causing damage in a matter of minutes. Even a short delay can thus make the restoration process more costly for you and your clients.
Of course, not every water loss occurs during normal business hours. Sometimes a disaster occurs on a weekend or holiday. Your clients should not have to wait until the next business day to start the drying process. They need a 24 hour commercial cleanup company.

That is why SERVPRO is a preferred vendor for most insurance providers. A representative from the company will respond to your clients' calls right away. In fact, each client should receive:
A call within one hour

A visit within four hours

A verbal brief within eight hours
The Consequences of a Delayed Cleanup
Paper items such as books and photos may start to swell within a few minutes of a water damage. Furniture can bleed and stain carpets, as well. Over the next day, wet metals may begin to tarnish, and musty odors may start to spread. Water could also cause the Grand Manor, AZ, building's drywall to break down. A 24 hour cleaning company can start the restoration right away and prevent many of these issues.

The Company That Responds Immediately

While SERVPRO is always open, that is not the only reason it can respond to emergencies right away. The company also has more than 1,700 franchises in Canada and America. At least one of these franchises is likely close to each of your clients' buildings, making it easier for SERVPRO to survey any damage in a timely matter.

SERVPRO understands that a fast response to water damage is so important. That is why its employees reply to all calls immediately, no matter the time or day. Choosing a company such as SERVPRO that provides 24 hour response can help minimize the damage your clients sustain following a water loss.