Preparing Your Business for Severe Thunderstorms
1/13/2022 (Permalink)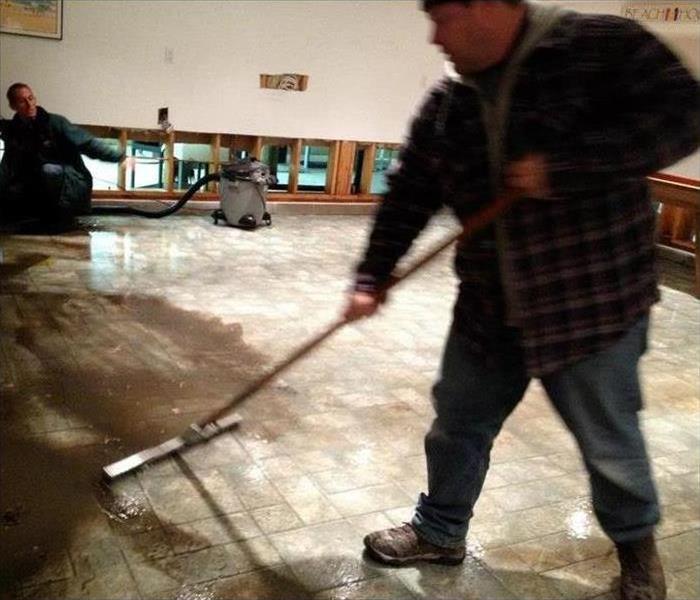 Our SERVPRO team is available 24 hours a day, 7 days a week, for any essential storm damage cleanup and restoration in your business.
Getting Ready For Severe Thunderstorms In Your Business
A rain storm is different from a severe thunderstorm in several ways: thunder, lightning and strong winds. It is advised to find shelter and stay indoors when severe weather strikes, but what else should a business be doing to protect its assets, employees and customers.

1. Keep Trees and Shrubs Trimmed

The exterior of your building can become extremely dangerous during high winds and severe weather, especially with unkempt trees and shrubs. While many plants and trees appear fine in normal weather conditions, long branches or otherwise innocuous bare limbs can become projectiles in certain instances. It is best to keep trees and shrubs trimmed to prevent any possible issues.

2. Have an Emergency Plan

A rain storm is mild enough to continue with your day-to-day operations, but a severe storm changes things. With lightning and strong wind gusts, it is best to stay indoors and preferably away from windows and doors. As a business owner, it is best to create an emergency plan for all employees. You should find a designated storm shelter within the building away from the exterior.

3. Know First Aid

In an emergency situation, it pays to have knowledgeable people present. For instance, it is wise to have employees who are aware of basic first aid practices, including CPR. This way, you ensure that there are people present who can safely apply aid while waiting for rescue if it comes to that.

4. Install Lightning Rods and Other Defensive Measures

Beyond planning and first aid, you can install lightning rods and generators to prevent damage to electrical systems. A disaster restoration specialist in the Glendale, AZ area can help you come up with a specific plan for your business and building.

While a rain storm may not cause the greatest concern, a severe thunderstorm should not be taken lightly. These storms can wreak havoc on electrical systems and may even cause physical harm to you or your employees. Know your options and plan ahead.