Fire Extinguishers: Understanding the P.A.S.S. Technique
1/6/2022 (Permalink)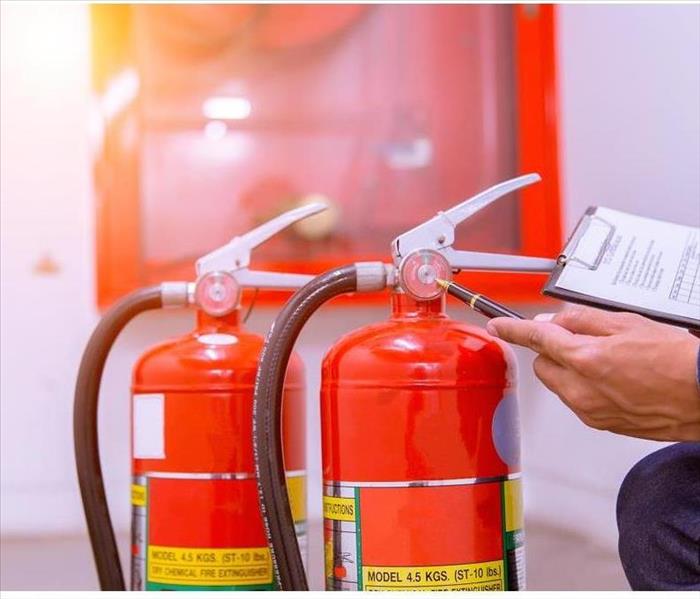 A fire extinguisher is a life-saving tool, and there may come a time when it is your only means of defense.
Understanding The P.A.S.S. Technique With Fire Extinguishers
A fire extinguisher is one of the most essential pieces of life-saving equipment in your commercial property. While your fire suppression system is excellent for your overall facility and alarms will ensure the safe evacuation of your employees or tenants, extinguishers provide a direct line of defense and allow for immediate response to manageable fires. However, there is a four-step process known as the P.A.S.S. technique.

1. Pull

The first step is to pull the pin from the extinguisher handle. The removal of this pin will allow the handle to be fully compressed, releasing the compressed air and chemical mixture to extinguish the flames.

2. Aim

A fire extinguisher will typically have a short, flexible, rubber hose attached to the nozzle and extending away from the handle. This will allow you to aim the compressed mixture at the fire. However, be sure to avoid contact with the discharge opening as the CO2 can damage your skin.

3. Squeeze

Squeezing the handle will release the extinguishing agent. Its mixture will come out quickly and somewhat powerfully, so be prepared and keep firm aim on the blaze.

4. Sweep

You will want to use a sweeping motion, focusing the extinguishing mixture on the base of the fire. Continue this process until the fire is out. After the fire is out, watch the are and ensure that there are no remaining embers. It is possible for a fire to reignite, causing more fire damage.

If you have any questions or concerns regarding the proper extinguisher technique, you can contact your local fire department or a fire remediation specialist in the Peoria, AZ, area. These professionals should be able to instruct you on the basics of fire safety and may even offer a demonstration.

A fire extinguisher is a life-saving tool, and there may come a time when it is your only means of defense. However, most often it will be used to squelch small fires, like a kitchen fire, before they turn into more significant disasters. Either way, knowing proper technique is key.