How To Protect Your Roof After Fire Damage
3/14/2022 (Permalink)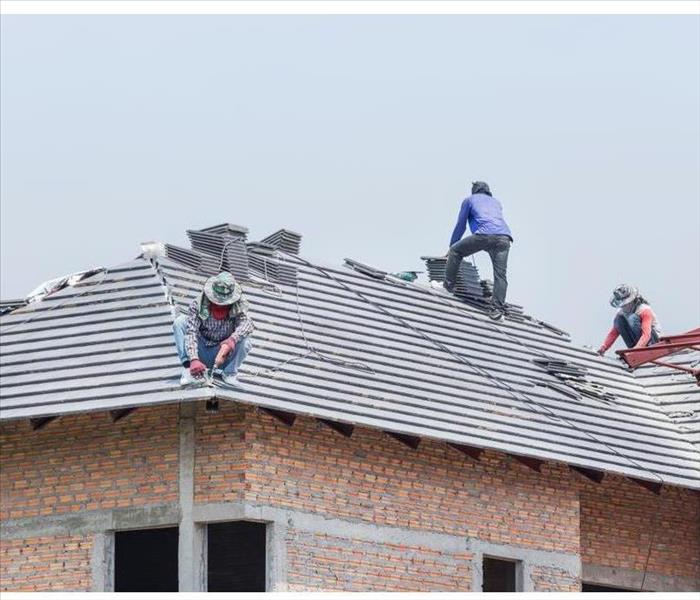 One of the first things that the professional restoration services do when you call them for fire, is to secure the roof to avoid further damages.
How To Restore Your Roof After A Fire
When a fire breaks out in your building in Glendale, AZ, one of your first calls will likely be to professional restoration services for fire cleanup. One of the first things they will do is secure the roof so that no further damage happens to your building. Having a tarp professionally installed on the roof can prevent excessive water damage from rain as well as keep extra dirt and debris from fall through to the attic.

Applying the Tarp

The benefit of having a tarp placed on your damaged roof by professionals is that you know it will protect your building while it's being repaired. Professional tarp services include the following steps:
Anchoring a board to the roof

Placing the tarp over the anchor board

Applying a second board on top of the tarp to hold it in place

Ensuring the tarp extends over the roof's edge

Securing the boards and the tarp so they don't become detached
A tarp that is properly secured protects your building throughout the fire cleanup process by covering any holes created by the flames or resulting from the repair process itself. Technicians should replace the tarp whenever they are not actively working on the roof.

Preventing Damage

When your building needs roof repair, it becomes vulnerable to many outside elements. A rainstorm could cause significant leaking, which, if not remedied in a timely manner, can turn into a mold infestation. Debris can blow into the building from the holes in your roof. An unsecured roof can also be tempting to animals such as birds and squirrels that are looking for a place to nest. By covering the roof any time they're not working on repairs, your technicians help you avoid these problems.

Protecting your building from secondary damage is essential during fire cleanup. From assessing the problem to completing the restoration, experts are here to help.